Welcome to Sand Castlemore
Nominated for Best of Western Washington Northwest Escapes (2009-2015)
You're invited to stay at Sand Castlemore -- our beautiful Moclips, Washington beachfront home. Just steps from the sand, this beachfront luxury home was nominated for King 5 & Evening Magazine Best of Western Washington Northwest Escapes – Best Getaways (2009-2015). The home's seashore setting, glorious unobstructed view of the Pacific Ocean, decadent accommodations, and magical charm makes it the perfect vacation destination for families, friends, romantic getaways, and for quick escape from the "real world."
Make no mistake, SAND CASTLEMORE IS JUST STEPS FROM THE SAND -- not like homes on the bluff requiring a serious hike to the beach or drive in the car, and not like homes to the south sitting a mile or more back from the sand's edge -- but rather, Sand Castlemore requires only 16 easy steps from the home's deck, down a private staircase, to the sea grass below. This home has unmatched privacy -- there are no homes on the beach to the south as far as the eye can see. This is especially convenient when enjoying the private hot tub.
Sand Castlemore at a glance:
Located on Sunset Beach in Moclips, Washington.
Includes all the necessities for a spontaneous getaway or a long, planned beach vacation.
Easily harbors up to eight people, can accommodate up to 10 if required.
Dog friendly home. In most cases up to two well-behaved dogs are allowed (requires prior approval).
Three comfy bedrooms with two baths.
Safe, simple beach access. The only thing between you and the beach are the dunes and the stairs that take you there!
Outdoor hot tub on the spacious deck with clear glass railing for a completely unobstructed view.
Find out more by visiting the amenities page.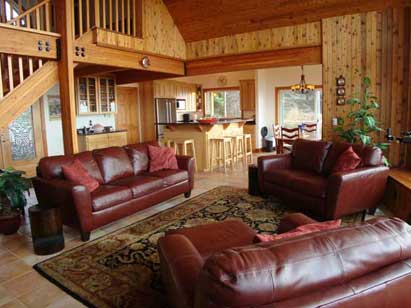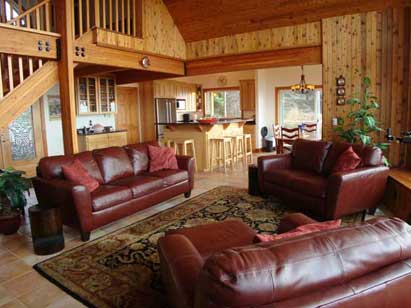 The great room looking into the kitchen.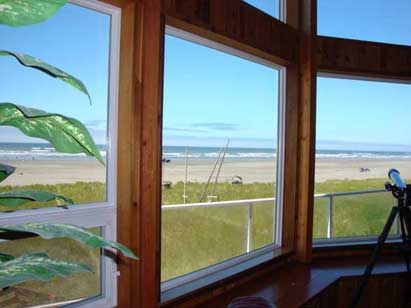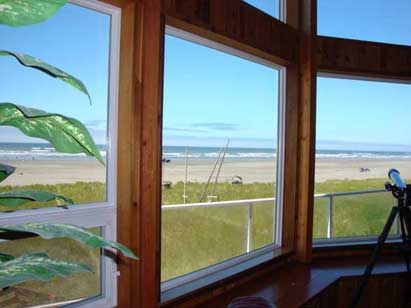 The view from the great room.
Sand Castlemore is just a short drive from home (slightly over two hours from Seattle/Tacoma or Portland), yet it's a magical escape to the seascape.
It sits only 18 miles north of the large seaside town of Ocean Shores, and it's about a mile north from the quaint towns of Pacific Beach and Seabrook. For a list of local curiosities, please see the activities page. Also, check out our photo gallery. Simply roll your mouse over the small photos to expand them.
We love to relax. Don't you? We've made sure you'll have everything you need (and more) for a completely relaxing and enjoyable getaway. Please don't hesitate to email us at info@sandcastlemore.com or call 425-280-3587 to find out more or to make a reservation.
Calendar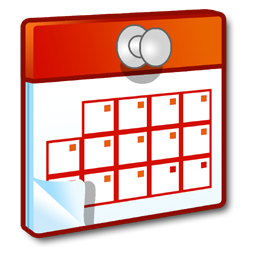 Check home availability...
Directions

Directions to Sand Castlemore...